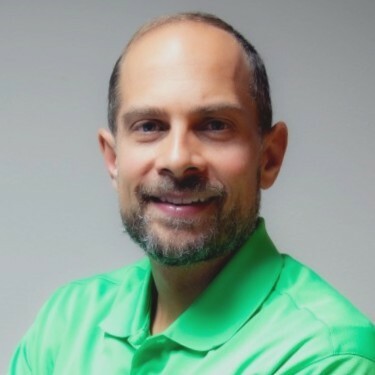 Name: Joel Sylvester
Employer: Five Star Call Centers
Position/Title: Partner, Chief Client Officer
Tell us a little bit about yourself:
I was born in Jamestown, North Dakota and relocated to Sioux Falls in 1990. My wife Tanielle is a counselor with the Sioux Falls Public Schools, I have a 15 year old daughter Addison that loves Show Choir and Dance, and 11 year old son Dawson who plays chess and hasn't lost to me since he was 9. Our family enjoys the outdoors biking, hiking, and spending summers on the river in Platte, SD skiing, wakeboarding, and tubing.
Why did you join Rotary Club of Downtown Sioux Falls?
In the early part of my career I managed contact centers all over the United States and world and really felt like I knew more about other cities than the one I lived in and was a chance to learn more about Sioux Falls and meet other business leaders.
Are you on any Rotary committees? If so, explain the value you have gotten from joining a committee.
One of my favorite things about Rotary is that regardless of where you are a member, you are a member of the world. As I have grown businesses in other parts of the country and world I have attended meetings and made connections in locations including Fargo, ND, Sioux City, IA, Tulsa, OK, Wichita, KS, and Chihuahua, MX.
What other clubs/boards/nonprofits are you involved with?
I'm on the board of the Sioux Empire United Way and active on the Campaign Committee, Sioux Falls Sculpture Walk Board, Washington Pavilion Operations Board, and Employment Disability Resources.
Do you currently mentor as part of the Sioux 52 Initiative? If so, what has your experience been like?
I started mentoring a boy named Cody when he as in 9 years old and in the 3rd grade. Last Monday he turned 29 years old and we are still friends. I learned a lot about the resources availability to help those in need as he went from elementary school, to middle school, to high school, to adulthood. He helped me coach my daughters basketball teams for 4 years, and volunteers in the community with me for Sculpture Walk and the Washington Pavilion.
What would you tell someone that is considering joining Rotary Club of Downtown Sioux Falls?
It's a great way to make genuine connections with others that want to make Sioux Falls and the world a better place, as well as a way to learn about all the good things happening in Sioux Falls.